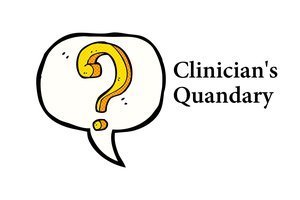 Ever heard about a tricky clinical scenario and thought, "I know exactly how I'd handle that"? In the spirit of sharing and community, we're introducing a forum called Clinician's Quandary, where you, the reader, offer your take on how you'd address a clinical dilemma from a real practice.
On the first Tuesday of every month, we'll pose a Quandary and collect responses. Top answers from the previous month will be posted that same day and shared with your colleagues worldwide. See below for submission details.
Here's this month's Quandary:
I've been a therapist for almost 15 years and am newly single. Taking the advice of friends, I joined a few online dating apps. (The last time I was single, we didn't even have cell phones!) To my horror, I've seen several clients come up in these apps, so I'm sure they've seen me. I desperately want to start dating, but this puts in me a very awkward position with these clients. What's the best way to handle all this?
We want to hear from you:
Send your response in 300 words or less to info@psychnetworker.org. Include "Clinician's Quandary Submission" in the subject line.* Include your name and country, city, or state.

Please provide detail in your response that paints a picture of what your solution looks like in practice. Don't be afraid to get creative!

Please allow up to one month for our editors to review your submission. We'll let you know by email if your response is selected for publication.
Stay tuned to our pages on Facebook, Twitter, and LinkedIn, as well as to our Week in Review e-newsletter for upcoming Quandaries.
*Responses may be edited for clarity.
Check out our the Clinician's Quandary archive!
Topic: Professional Development
Tags: case study | Personal & Professional Development | Professional Development