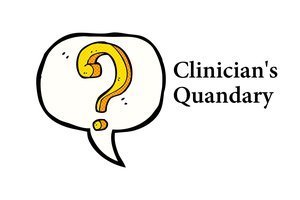 Ever heard about a tricky clinical scenario and thought, "I know exactly how I'd handle that"? In the spirit of sharing and community, we're introducing a forum called Clinician's Quandary, where you, the reader, offer your take on how you'd address a clinical dilemma from a real practice.
On the first Tuesday of every month, we'll pose a Quandary and collect responses. Top answers from the previous month will be posted that same day and shared with your colleagues worldwide. See below for submission details.
Here's this month's Quandary:
I know that accepting gifts from clients is an ethical no-no, but when my client Asha recently gave me a homemade necklace (a shell she'd found on the beach and strung on a piece of leather), it seemed innocuous enough to thank her and keep it. Now she asks about it at almost every session, wondering why I'm not wearing it and if I still like it. Asha and I have been working on her attachment issues, a likely result of childhood neglect. I think I can turn my error into a therapeutic teaching moment, but I also worry that by offending her, I may lose her as a client. What are some ways I can best handle this?
We want to hear from you:
Send your response in 300 words or less to info@psychnetworker.org. Include "Clinician's Quandary Submission" in the subject line.* Include your name and country, city, or state.

Please provide detail in your response that paints a picture of what your solution looks like in practice. Don't be afraid to get creative!

Please allow up to one month for our editors to review your submission. We'll let you know by email if your response is selected for publication.
Stay tuned to our pages on Facebook, Twitter, and LinkedIn, as well as to our Week in Review e-newsletter for upcoming Quandaries.
*Responses may be edited for clarity.
Check out our Clinician's Quandary archive!
Topic: Professional Development
Tags: case study | Personal & Professional Development | Professional Development